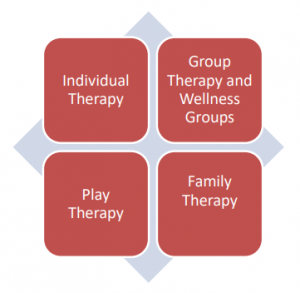 Elmira Counseling Center: Elmira is a lifespan team treating diverse clients of all ages, typically of higher acuity, many of whom present with severe and persistent mental illness. Many of the clients and families treated here are under-served and have Medicaid.
Galena Counseling Center: This team serves a highly diverse group of children and families from many racial/ethnic groups including a large Latino population (with many Spanish speaking families) and multiple refugee communities. Many of our clients are under-served and have Medicaid.
Child and Family South Counseling Center: This team provides diagnostic assessments, individual, group, and family therapy services to children and families. The clients seen on this team are culturally diverse and interns have the opportunity to work closely with families and schools to identify and treat a variety of symptoms and presenting problems.
Student Placements Available and Requirements
Graduate Students: Advanced Standing or Second Year MSW students or Doctoral Students (PsyD or PhD) Students are expected to be able to provide therapy to children and families (adults if applying to Elmira) with support and supervision and will be expected to conduct therapy sessions, some possible crisis management and to lead and co-lead therapy groups. Some evening hours to meet family needs for therapy sessions. 20 hours/week