MCC serves school, aged children with academic and therapeutic services. Children are "wrapped" in the services
they need: crisis management, psycho-education, advocacy, resources. Behavioral health needs are met through
evidence based models of therapy and parent education and support.
MCC hours are Monday through Friday, 8 am to 4 pm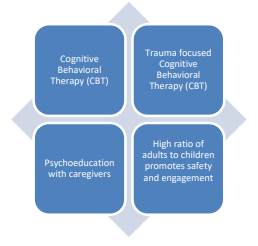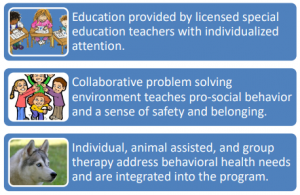 Student Placements Available and Requirements
Undergraduate Students: Work in the therapeutic classrooms providing milieu management with supported learning in areas of crisis management, trauma and mental health in children. Summer internships available: prefer M,Th 9,4 but will accept partial schedules. Summer programming includes equine therapy, pro,social, and educational activities.
Graduate Students – First Year: Supported in a milieu management experience with opportunity to co,lead therapy groups and assist with crises. Start to learn what mental health and trauma can look like in children. Therapy experience may be available depending on the experience the student has prior to the internship. 16 hours/wk.
Graduate Students – Second/Concentration Year or Doctoral Extern: Students are expected to be able to provide therapy to children and families with support and supervision and to help in the classroom; crisis management; and to lead and co,lead therapy groups. Some evening hours required to meet family needs for therapy sessions. 20 hours/wk.