UPDATE 4/8/2020
Last night AUMHC was represented by CEO Kelly Phillips-Henry, Chief Clinical Officer Mara Kailin, and Chief Medical Officer Anne Garrett-Mills at the Telephone Town Hall, hosted by Arapahoe County, Douglas County, and Tri-County Health Department. The Q&A event focused on mental and public health during COVID-19. We were joined by experts from All-Health Network, as we offered guidance and answered questions. Thank you to all those who listened-in live. Listen to the audio below.
---
Update 4/6/2020
Our updated COVID19 Resouce list provides information about the following:
Housing Assistance and Shelter Updates
Food Assistance
Shopping Hours for Vulnerable Populations
Eviction/Foreclosure
Utilities
Transportation
General (Includes Co Help-Economic Relief and Arapahoe County Case Assistance)
Supporting Kiddos
Supporting Adults/Providers – Includes informational links
Click here for resources and information
UPDATE 3/31/2020
Are you vulnerable and at greater risk and/or a senior? Are you in need of housing, food assistance and/or information on what to do if you're facing eviction or having trouble with utility payments? Please see the following reference sheet. 
Covid19 Resources: Housing, Shopping, Food, Utilities, Eviction, Transportation, Supporting Kids and Adults 
UPDATE: 3/25/2020
Effective tomorrow morning, Thursday, March 26, 2020, Adams, Arapahoe, Boulder, Douglas and Jefferson counties have issued Stay-At-Home orders to stop the spread of COVID-19.
Please see the following from Tri-County Health Department regarding the order
Jefferson County, Colo. — Three public health departments serving more than 2 million residents across the Metro Denver region joined together to issue Stay-At-Home Public Health Orders in their counties today, effective March 26 at 8:00 a.m. until April 17 at 11:59 p.m. unless officials determine it is in the interest of public health to expire at an earlier date and time. The departments include Boulder County Public Health, Jefferson County Public Health and Tri-County Health Department (which serves Adams, Arapahoe and Douglas Counties).
"There is widespread transmission of COVID-19 in the Metro Denver area, and we must take bold actions to stop the spread of this virus," said John M. Douglas, Jr., MD, executive director of Tri-County Health Department. "With each passing day, we run a growing risk of greater transmission and illness and quickly overwhelming our hospitals, which are really a resource for our entire region and state. When this happens, not everyone may get the care they need. It's a real possibility in Colorado — and a situation which has already occurred in countries such as Italy — and which is threatening to happen in major U.S. cities in other areas of our country. We understand the toll that measures to address the pandemic are having on our communities, and we want to reassure residents that this step is temporary, and a critical one to get us closer to recovery."
These Stay-At-Home Orders are in addition to other recently issued public health orders that promote social distancing, such as those from the Colorado Department of Public Health and Environment. While beneficial, we do not believe they have done enough to slow transmission. The Stay-At-Home Orders go a step further by requiring individuals to do their part by staying at home and away from others.
The Public Health Orders require that all people in each county stay at their place of residence, and that they make every effort possible to conduct only essential activities necessary to maintain health and well-being, such as getting groceries, obtaining medical supplies or medication, and/or engaging in outdoor activities like walking, hiking or running while following other social distancing practices.
Work to provide essential business and government services or perform essential public infrastructure construction, including housing, is also permitted. People at high risk of severe illness from COVID-19 and people who are sick are urged to stay in their residence except to seek medical care.
"Scientific evidence shows that we must act now, at this stage of the COVID-19 emergency, in order to save lives in the long-run. It will give us the time we need to test comprehensively and to slow the spread of the virus to prevent our health care system from being overwhelmed," said Jeff Zayach, Boulder County Public Health executive director.
"The virus is easily spread through person-to-person contact, and the risk of transmission is much greater when people are in close proximity," said Dr. Mark B. Johnson, Jefferson County Public Health executive director. "This order will help protect everyone in our community by ensuring social distancing measures are followed. By taking this action now, we can start to flatten the pandemic curve."
Examples of Activities Permitted and Not Permitted Under the Stay-At-Home Orders*

Permitted

Not Permitted 

Getting medical care for you, a family member or your pet
Visiting a health care professional
Getting medical supplies or medication
Going to get groceries, food (via takeout, drive-thru, food banks/pantries) or other essential household items
Getting supplies to work from home
Picking up materials from your child's school needed for distance learning (tablet, books)
Going outside for physical activity, as long as you stay at least 6 feet away from people who are not in your household and follow social distancing practices
Going to work, ONLY if you provide essential products or services at an essential business (health care operations, infrastructure operations and maintenance, certain government functions)

In-person public or private gatherings of any size with people outside of your residence
Traveling, except to get or provide essential services or medical care
Carpooling with anyone outside of your residence
*This is not a comprehensive list. Please refer to the orders for a complete list of essential activities and services, as well as social distancing requirements.
During the stay-at-home period, we encourage our communities to stay connected with one another and take steps to maintain health and well-being. Here are some ideas:
Call or video chat with friends, neighbors and family.
Go for a walk outside, but keep at least 6 feet away from others.
Plan a family game night with people who already live in your home.
Read a good book, listen to music or stream a favorite show.
Cook a healthy meal.
Get a head-start on spring cleaning.
Do arts and crafts — get creative and use what's available in your home.
For more information about COVID-19 and resources available in your community: 
---
UPDATE: 3/24/2020
AUMHC Medical Team is fully functioning and able to provide medication management services remotely. If you need assistance with medication, please contact your provider. If you are not established with an AUMHC provider and need services, please contact us at 303-923-6300 or email us at PAC@aumhc.org
---
UPDATE: 3/23/2020 
Attention: Aurora Mental Health is open for business. Call us at 303-617-2300 for services and care. Our providers will connect with you for telehealth services, including our Connect2Care clinic. Our residential and detox services remain open, and our crisis services are available by calling (844) 493-8255.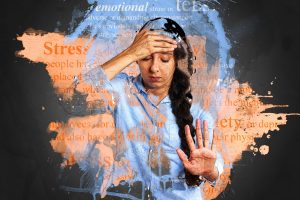 With uptick in 'anxiety, hopelessness,' local experts offer advice, resources for mental health
By Grant Stringer | Sentinel
AURORA | As the pandemic and financial woes create more anxiety in Aurora and across the region, mental health experts say residents can maintain sanity with at-home strategies and resources.
Care providers at the Aurora Mental Health Center, which runs clinics and therapy sessions for Aurora residents, are working overtime with patients through video and phone links, said Chief Medical Officer Anne Garrett-Mills.
"Stress from of all of the sudden life changes, loss of income and financial uncertainties for many, lack of clarity around the rationale for dramatic social changes, decreased opportunities for social interaction and the disruption of usual routines are all circumstances that create distress and increase the use of addictive substances and exacerbate mental illness," Garrett-Mills said. "We are hearing folks express an increase in anxiety, hopelessness, and general distress, as they navigate this new world of fear, uncertainty and scarcity of resources."
---
UPDATE: 3/20/2020
Attention: Aurora Mental Health is open for business. Call us at 303-617-2300 for services and care. Our providers will connect with you for telehealth services, including our Connect2Care clinic. Our residential and detox services remain open, and our crisis services are available by calling (844) 493-8255. 
In order to help you get started with Aurora, please see the following forms that will help us in providing care.
---
UPDATE: 3/18/2020
Attention: Aurora Mental Health is open for business. Call us at 303-617-2300 for services and care. Our providers will connect with you for telehealth services, including our Connect2Care clinic. Our residential and detox services remain open, and our crisis services are available by calling (844) 493-8255. 
Remember to check up by phone on elderly or vulnerable friends and neighbors who may need help.
The State of Colorado launched a Covid-19 website with updates on the outbreak of Coronavirus.
---
UPDATE: 3/17/2020
A message from AUMHC CEO, Kelly Phillips-Henry, Psy.D, MBA, on keeping You and Your Family Healthy during this challenging time. 
The COVID-19 pandemic is here and its impacts on our daily lives will continue to emerge in the days and weeks ahead. Each of us can do our part to help slow the spread and protect the health of ourselves and our neighbors.
Please be assured that Aurora Mental Health Center is open for business and continuing to serve the mental health needs of our community.
We've redesigned our care delivery practices to protect the health of our clients and employees by minimizing face-to-face contact.
Most services and care are being provided via telehealth – using phones, video and computer technology. Providers are connecting with clients via phone or email to determine the best method for care.
Our Connect2Care clinic provides direct telehealth services at 303-617-2300.
Residential and detox services remain open, and Crisis Services are open and available by calling 844-493-8255.
---
UPDATE: 3/13/2020
Due to COVID-19 (CORONAVIRUS) Aurora Mental Health and Asian Pacific Development Center (APDC) is open for business but delivering the majority of our services through phone and video for the time being. Your provider will connect with you via phone or email to determine the best method for you.
Our Connect2Care clinic at 791 Chambers remains open and can assist you; our residential and detox services remain open, and our crisis services are available by calling (844) 493-8255. 
Please contact us at 303-617-2300 to verify your phone number.
---
When you arrive at an AUMHC location, our staff will be asking the following screening questions. With the nature of the COVID-19 outbreak, it is important that everyone be cognizant of the need for care and testing if you answer yes to any of the following:
Do you have a fever, cough or flu/cold like symptoms?
Have you traveled in the past two weeks?  If so, where? In the United States? Abroad?
Have you been within six feet or in the same physical location with someone who has tested positive or is presumed to be positive for Covid 19/Coronavirus patient?
Have you been in contact with a confirmed COVID-19/Coronavirus patient?
We also ask when you visit any of our locations that you wash and/or sanitize your hands before entering our offices.
---
In an effort to provide information to the community we serve, please take a moment to look over the following recommendations provided by the Colorado Department of Public Health & Environment and the CDC.
Daily preventive actions are important in reducing virus spread to at risk people who may experience more severe illness.
These everyday actions can help you protect yourself and those you love:
 

Frequently and thoroughly wash your hands with soap and water for at least 20 seconds. If soap and water are not available, use hand sanitizer with at least 60% alcohol.

Cover coughs and sneezes with a tissue, then throw the tissue in the trash, or use your inner elbow or sleeve.

Avoid touching your eyes, nose, and mouth with unwashed hands.

Stay home if you're sick, and keep your children home if they are sick.

Clean surfaces in your home, and personal items such as cell phones, using regular household products.

People who are not sick do not need face masks to protect themselves from respiratory viruses, including COVID-19. Ill people should wear a mask to protect family members or in any scenario where needed to prevent the spread of germs.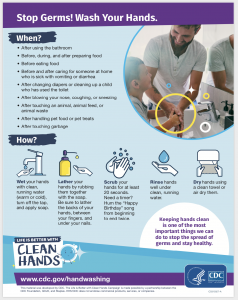 Stay calm and be prepared:
Feeling stressed, scared, anxious, and/or angry regarding this virus outbreak is normal, even when you're at low risk of getting sick. Mental health and wellness is important, and taking the time to engage in activities that help release stress, fear and negative feelings is recommended to help put you in a positive mood, such as listening to music, reading, and physical activity, to name a few.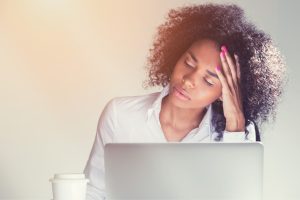 As a parent and/or a caregiver we understand that your first concerns are to protect and take care of your children and family. Information regarding the outbreak and precautions can help to calm stress and anxiety.
Please see the following resource: