Respite care services are temporary scheduled or emergency, short‐term care of children ages 4-17 by adults other than the parent or legal guardian with whom the child normally resides. We provide respite for children who are funded by Medicaid as well as emergency respite referrals from Colorado Crisis Services, regardless of Medicaid or insurance.
Respite care services are designed to allow the child and the family some time away from each other to emotionally re-charge and become better prepared to handle normal day-to-day challenges. Respite care services are designed to prevent unnecessary hospitalizations or out of home placements of children receiving mental health services. These services are provided by highly trained staff who take the children into their own home for respite and are licensed foster care providers.
AuMHC also provides adult respite services in a semi-structured residential support environment. These services can be utilized for up to14 days by individuals 18 years of age and older who need a level of support above what they would receive at home, but not the intensive therapeutic supports of a Crisis Stabilization Unit or hospital. Services provided include individual and group therapy, medication monitoring and case management to connect with community resources and outpatient mental health services. Our adult respite services can be accessed through Connect to Care. Adults receiving respite services will have immediate, 24-hour access to staff, as necessary.
You can learn more about this program by reading our brochure.
Respite care services provide:
Aurora Mental Health Center has been successfully providing respite care services to many children and families throughout the Denver Metro area for several years.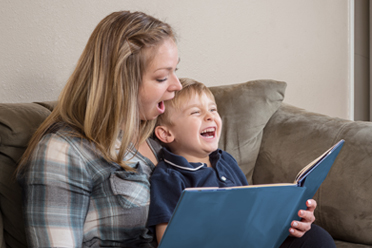 Structured supervision by adults who have experience working with children with challenging behaviors
A supplement to community resources and psychotherapeutic services already in place
Participation in enriching cultural and fun activities for children
Positive adult role models
Assistance in the development of emotional self-regulation skills
Opportunities to increase self-sufficiency
Opportunities to practice socialization skills with adults and peers
Time for primary caregivers to relax, regroup, and learn positive coping skills themselves
We are always in need of caring, skilled individuals and families willing to open their homes to children with challenging behavior.
Open your HOME. Your LIFE. Your HEART. Become a Respite Provider. Apply at bearespiteprovider@aumhc.org