Donate to Aurora Mental Health Center
The foundation of Aurora Mental Health Center is rooted in the community that we serve. From our beginnings through today, our mission depends on the efforts of donors, volunteers, and those who care about creating a community that is healthy and hopeful. From a donation of clothing to help an at-risk family to mentoring a young person experiencing trauma, all contributions are valued and welcomed.
Please contact us to learn more about how you can turn your passion into action. Together, we can discover new avenues of opportunity and increase our efforts in areas of need.
Ways to Make a Monetary Donation:
Please make a secure online donation through Colorado Gives to the Aurora Mental Health Center, one of our specific programs, or our endowment fund.
Mail your donation to:
Aurora Mental Health Center
ATTN: Donations
1290 Chambers Road
Aurora, CO 80011
Please email LoriBanks@aumhc.org to inquire about planned giving
Make a Donation of Materials:
For homeless services programs – New or gently used cold and warm weather items (socks, hand warmers, sunscreen, bug spray)
Youth programs – Books, art supplies, gardening supplies
Sponsor an Event:
AuMHC holds a Spring Luncheon each year
The Annual Spring Luncheon in May
To learn more about this event please email LoriBanks@aumhc.org.
Wear AuMHC and Donate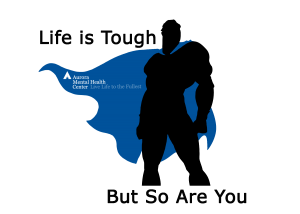 Head to the AuMHC online store to lend your support through your purchase of a shirt or tank. 
---
If you have questions about any of the above, please call 303.617.2300 or email LoriBanks@aumhc.org.
---
Donor Privacy Policy
Aurora Mental Health Center and Subsidiaries – Asian Pacific Development Center and Aurora Research Institute – (AuMHC), value the privacy of our donors. To better protect your privacy, we provide this notice outlining our policy on the collection and use of personal data and how we ensure confidentiality and security.
Online Privacy
This notice applies to all information collected or submitted for donations or orders on the Aurora Mental Health Center or Asian Pacific Development Center websites.
When placing an order, we use the information you provide about yourself or others (sending to a different address as a gift, for example) when placing an order.  This information is only used to complete that order.  We do not share this information with outside parties except to the extent necessary to complete that order.  When a product is ordered, the types of personal information collected at checkout are:
Name
Address
Email address
Phone number
Credit Card Information
Donations may be made through ColoradoGives.org, mailed to AuMHC, or an e-mail address is provided for inquiries.
We also do not allow donors to submit information about other people online, for example, to purchase or donate online in honor or in memory of another individual.
Donor Privacy
We use return email addresses to answer the email we receive.  Such addresses are not used for any other purpose and are not shared with outside parties.
We never use or share the personally identifiable information provided to us online in a way unrelated to the ones described in this policy without also providing you an opportunity to opt-out or otherwise prohibit such unrelated uses.
Commitment to Data Security
To prevent unauthorized access, maintain data accuracy, and ensure the correct use of information, we have put in place appropriate physical, electronic, and managerial procedures to safeguard and secure the information we collect online.
How to Contact Us
To access, review, or correct any errors in your personally identifiable information, please use the "Contact Us" button on our website and ask for a response from the Development, Experience, and Communication Team.  You can also call 303-617-2300 and ask for the Development, Experience, and Communication Team.